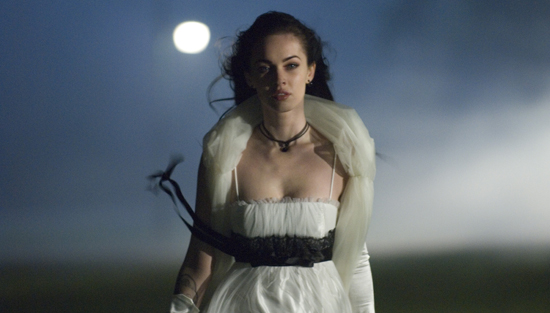 I'm sure you've heard.
For months and months, there was hype about
Jennifer's Body
, Diablo Cody's female-driven follow-up to
Juno.
And then . . . there was anti-hype. Terrible reviews. Abysmal box office. So much of both that I who had really been looking forward to it (as a fan of both Cody and cheesy horror films) decided not to see it in the theatre. In fact, the reason I saw it at all is because my friend Bob was visiting from L.A. and bought the DVD for cheap.
I fully expected to MST3K
Jennifer's Body
into ironic oblivion.
But you know what? I kinda liked it.
Unless you've been living under a rock, you know the basic plot: after an inflammatory night out, Needy Lesnicki (Amanda Seyfried) finds that her beautiful, popular BFF Jennifer Check (Megan Fox) is acting bloodthirsty--and not in the bitchy teenage girl way. Cue blood, boobie shots, and Megan Fox saying things like "I go both ways" so fourteen-year-old boys everywhere can get hard-ons.
And yes, there's much ridiculosity to be witnessed in
Jennifer's Body.
Much of which originates with Megan Fox. After careful analysis (and by analysis I mean me and Bob going back and forth going, "woooow, she's terrible"), I have arrived at the following conclusion: I'm not sure what the casting directors were going for (besides, well, the aforementioned fourteen-year-old boy hard-ons). I mean, for most of the movie, Jennifer is technically lifeless, so Fox's wooden performance might have been--a good decision? On the other hand, I do wonder what a better actress would have done with the role. Would it have been jacked-up nasty, or just overdone?
Anyhoo, forget the Fox. Here's who I liked best in
Jennifer's Body:
Amanda Friggin' Seyfried, yo. As far as I'm concerned, this girl can do no wrong. I know she first really broke out on the scene as dimwit self-fondler/weathergirl Karen in
Mean Girls
, which no doubt is a fantastic film in its own right. However, Seyfried had my heart after her season the title character's murdered best friend on
Veronica Mars
. Lilly Kane may have only appeared in flashbacks, but she packed quite the punch: rich, fun-loving, loyal and a little bit bitchy. In other words,
exactly
what anyone wants in a high school best friend. (And OMG, gorgeous. I wish she hadn't gone through the requisite Hollywood weight loss--those curves were bangin'.)
Seyfried just keeps getting awesomer: sure,
Mamma Mia!
was glittery garbage, but she has a lovely voice and her Sophie had a winningly winsome presence. And yes, I truly liked
Dear John.
(Shut up. Channing Tatum is fiiiiine and I may or may not have enjoyed the book.) It's funny: while Seyfried was great in
Mean Girls
, she didn't really stand out to me then (hell, Lindsay Lohan was still The One to Watch, and Rachel McAdams was coming into her own star power). I couldn't be happier that her career has proven me wrong.
Anyway, Seyfried's character Needy is a badass. Don't let the name (short for Anita) fool you. She tries to be a good friend until Jennifer's just too damn possessed for it to be possible. She has a sweet boyfriend (and a sex drive!), but isn't defined by him. And especially at the beginning and end, girl kicks some serious butt. I swear, after the movie I wanted to go around screaming "I recommend you
shut the fuck up!
" and kicking, but my roommate expressed a desire to, you know, not have the police called on us. Believe me, even when Megan Fox/Jennifer gets annoying,
Jennifer's Body
is worth watching for Needy.
Did I mention that she wears glasses? I love me some fierce bespectacled females. Even if there are demons involved.
Bob's favorite part: the line "you give me such a wettie." While for me this brings up images of Wet Ones (those baby butt-wipes), Bob pointed out that "there's not really a female equivalent for the term 'woody.'" Unlike in
Juno
, where Cody's twee pop culture-y phrases are backed up by real substance,
Jennifer's Body
's dialogue reeks of superficiality. However, some of it works: not just the "wettie" line, but how Needy and Jennifer refer to each other as "Monistat" and "Vagisil." I distinctly remember in high school when my friends and I came up with stupidly "dirty" nicknames for one another (Valerie Vagina in the house, yo!). Basically, yes, Cody's writing borders on over-the-top, but there are still some gems here. Don't give up on her yet.
So I know it got a lot of hate critically and at the box office, some of which was definitely deserved. But as inconsistent as it is,
Jennifer's Body
is worth the rental. If nothing else, we're supporting the scribe behind the
Sweet Valley High
revamp. And what could be awesomer than that?
P.S. Guess who's going to be writing for TVGasm? Thanks to all who voted! And don't worry, the bloggy fun will continue here!